Welcome to Poughkeepsie AAUW!
We have been advancing equity for women and girls as individuals and nationally since 1881 and as a local branch since 1925! We invite you to visit the pages of our website to explore the many parts of our organization. Our work continues. We welcome you to join us!
---
Upcoming Events/Information
---
WE ARE BACK IN PERSON!



Poughkeepsie Branch AAUW

Thursday
SEPTEMBER 8, 2022
7:00 PM
LIVE IN PERSON!
Location: Freedom Plains United Presbyterian Church
1168 State Route 55, Lagrangeville, NY 12540
Directions
SHARE THE STORY OF OUR GOOD WORKS, OUR COMMUNITY INITIATIVES, OUR MANY INTEREST GROUPS!!!
Welcome Our NEW MEMBERS!
Please bring PROSPECTIVE MEMBERS! Send names and contact information to Mary or Bonnie at membership.aauw.poughkeepsie@gmail.com
Enjoy a brief slideshow of our many activities
HOPE TO SEE YOU THERE — in person!!!
Contacts:  Mary Scalise-Annis or Bonnie Auchincloss at membership.aauw.poughkeepsie@gmail.com
---
POUGHKEEPSIE AAUW LUNCHEON AT THE BEEKMAN ARMS
WITH "THEATRE ON THE ROAD"
Saturday, November 5, 12:00 pm to 3:30 pm
Beekman Arms, 6387 Mill St., Rhinebeck NY 12572
Directions to Beekman Arms
Please join AAUW Poughkeepsie Branch at the theatre luncheon to raise funds to support the community initiatives and scholarships.
Check back for details!
---
                             2021-2022

*Report from our president, Monique Jones.
*Reports from Board members and chairs of other key activities HERE
---
Recent Events
---
"Coming Together"
Poughkeepsie Branch AAUW Annual Meeting was held on

Thursday, June 9, 2022

at Poughkeepsie Grand Hotel.  The evening included dinner, election & installation of Officers, awards and guest speaker.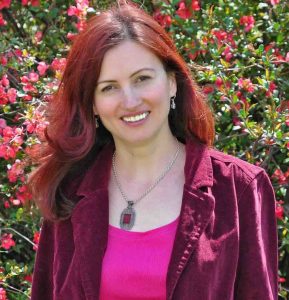 Speaker: Dr. Lucia Cherciu,
Dutchess County Poet Laureate
More information on Dr. Cherciu
Among the Members Honored*
Cornerstone Award 2022 Diane Jablonski
New Officers for 2022-23*
---
Rebel Hearts:

Fight

for Social Justice
On Thursday, May 12, 2022 our program had some "technical difficulties" and we were unable to show the film.  Hopefully you will be able to view the film with the information that will be sent to the membership.
Rebel Hearts, a 2021 highly acclaimed American documentary film, directed and produced by Pedro Kos, traces the joyous and fearless evolution from average to extraordinary.
Additional information on the program: May 2022 AAUW Program
In true AAUW fashion AAUW Member Cathy Kinn, a former member of the order, stepped up and explained the events that are shown in the film. There were many questions, all beautifully answered by Cathy.  We may have missed the film but we certainly learned so very much about this amazing order of nuns and their stand for human rights.
---
Promoting Justice and Dignity through
Place-Based Architectural Design
On April 14, 2022, we welcomed Senior Designers Evelina Knodel and Vrinda Sharma, from MASS Design Group (Model of Architecture Serving Society) whose mission is to research, build, and advocate for architecture that promotes justice and human dignity.  They gave an overview of the company and the projects it is now undertaking in Poughkeepsie.  It was a delight for our long time Poughkeepsie residents to hear of the plans to revitalize areas of the city.  Keep an eye on downtown to see these amazing changes.
Additional information on the program and the speaker: AAUW April 2022 Program Flyer
---
Woman of the Year 2022 
Jody Miller




Chair

of the Dutchess County
Commission on Human Rights
On Saturday, April 9, 2022 at the Beekman Arms, AAUW came together in person to honor our Woman of the Year.  It was an amazing event.  Our honoree was superb and the joy of seeing friends and colleague after two years of Covid only added to this very special occasion. If you missed this occasion, Jody's most interesting remarks are at the link  below under her name.
More information on Jody and our past recipients
---
THE WORLD THROUGH THE EYES OF WOMEN PHOTOJOURNALISTS
On March 10 Gary Miller presented many moving and inspiring photos and videos by women photojournalists to a most appreciative AAUW audience. He is a consistently popular presenter at Marist CLS classes with extensive photos and resources to share and this presentation was no exception.
Additional information on the program and the speaker: AAUW March Program 2022